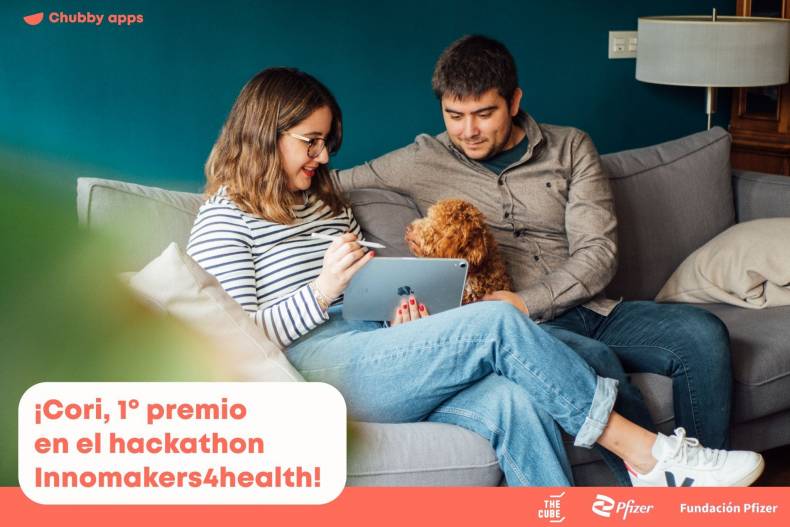 The Alava Cori app, winner of Innomakers4Health organized by Pfizer
• Cori, developed in Vitoria-Gasteiz, helps people with diabetes regain control and motivates them to improve every day.
• The award will allow them to develop their project for 6 months at The Cube's Innomakers Lab.
• During 48 hours, more than 100 participants have sought innovative solutions that help patients understand their pathology.
Vitoria-Gasteiz, November 29, 2021 – After an intense 48 hours of work, Cori, the Alava app that simplifies diabetes control, has won first prize in the III edition of Innomakers4Health organized by Pfizer, Pfizer Foundation and The Cube.
A competition that started last Thursday, November 25, and that during a weekend has brought together more than 100 participants from Spain and abroad to work with a single objective: to find innovative and creative solutions that help patients understand , in a visual and understandable way, its pathology and treatment.
"I know firsthand how difficult it is to be diagnosed with diabetes. It's a shock and changes your life forever. It's like running a marathon that you are not prepared for. Too much information, variables and complications. That's why when Pfizer threw the glove on us, we were very clear about what we wanted to develop, "said Asier G. Morato, co-founder of Chubby Apps.
"During the hackathon we wanted to re-imagine Cori to go from being a glucose diary to a digital assistant that helps the patient become familiar with her disease," said Patricia Bedoya, co-founder of Chubby Apps.
For this they have devised a solution with three parts:
1. A system of gamification and achievements that helps the patient to start in the treatment of diabetes. Instilling best practices little by little.
2. Personalized Stories (information pills) that are automatically generated according to their evolution and that explain key concepts of the disease.
3. Collectively analyze glucose, food, and exercise data to visually show how beneficial or harmful such activity has been.
"Developing this entire project in just 48 hours has not been easy at all, but the experience has been wonderful. All the participants have set the bar very high, so you can imagine our surprise when we saw that we had won "assures Asier G. Morato. "This recognition shows us that we are on the right track and we really want to take Cori to the next level during the 6 months of incubation at The Cube's Innomakers Lab," he concludes.
"I want to congratulate all the participants for their solutions. Innomakers4Health is precisely about this, looking for innovative projects that add value and improve the lives of patients ", said Sergio Rodríguez, CEO of Pfizer Spain.
This is not the first award received by the app developed in Vitoria-Gasteiz, since last October it won the prize for the best idea awarded by Álava Emprende. At the moment, Cori is available for iPhone and iPad and can be downloaded for free from the App Store. The Android version will be released in the coming months.