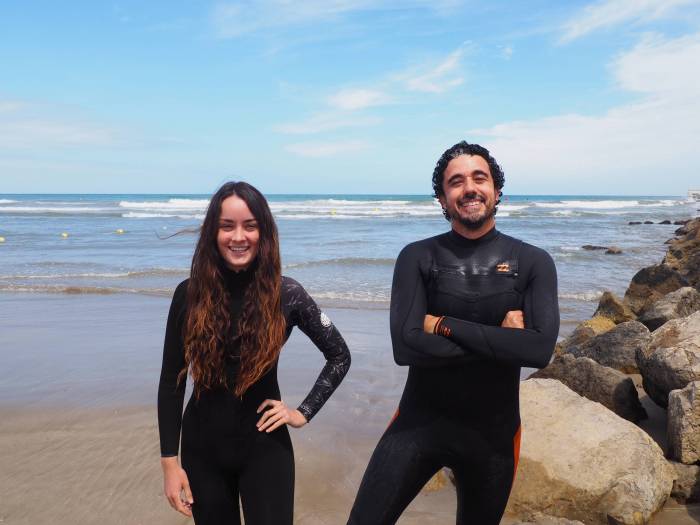 Dryfing closes its first investment round
The Basque project for the design, manufacture and sale of machines for washing, drying and disinfecting wetsuits expects to go on the market in the coming months after the capital increase.
Dryfing has announced the closing of a pre-seed round at a valuation of 400,000 euros. The capital obtained will be used to develop the prototype and manufacture the first units.
The start up, founded at the end of 2019 by Naia Espinosa and Juanjo Torres, was born out of the need to revolutionize the management of wetsuits after sports activity. Aimed at companies in the water sports sector, they have aroused interest from surf schools, triathlon organizations or diving centers.
Naia Espinosa, a graduate in business administration and management from the UPV / EHU and a passionate surfer, identified the need that Dryfing is working to solve. "The methods used today to wash and dry wetsuits are typical of another era. Today's schools deliver wet suits to their customers. We want to improve the customer experience and the service that companies offer."
Juanjo Torres, entrepreneur, nurse and physiotherapist, who in a previous project experimented how to offer a service at the national level, highlights the need to solve the aspects related to disinfection of suits. "It is surprising that in this moment of social distance and masks, wetsuits are shared without a process that guarantees to avoid the spread of dangerous infections."
Born in the entrepreneurial ecosystem of Álava and with its offices in the BIC ARABA building, Dryfing won the Explorer contest promoted by Banco Santander, which allowed them to participate in a training program in Silicon Valley. Since then they have won the CERN2B Challenge, establishing a technological collaboration with CERN (Switzerland) and other recognitions such as the First INIZIA 2020 Unientrepreneur Award from the University of the Basque Country.
Among the new investors is Guipuzcoana Tecnotooling engineering that joins as partner and technological partner. Josetxu Silgo, founder of the Alava Metxa accelerator, Eduardo Martinez, entrepreneur and organizer of sporting events, and Javier Colás, business angel and financial advisor.
"This financial support is a confirmation that there is a need in the water sports market and that our proposal can fit. We know the sector and we have tested the available solutions. Nothing works. Dryfing was born to reinvent the management of wetsuits and scale the idea globally. " Naia comments.