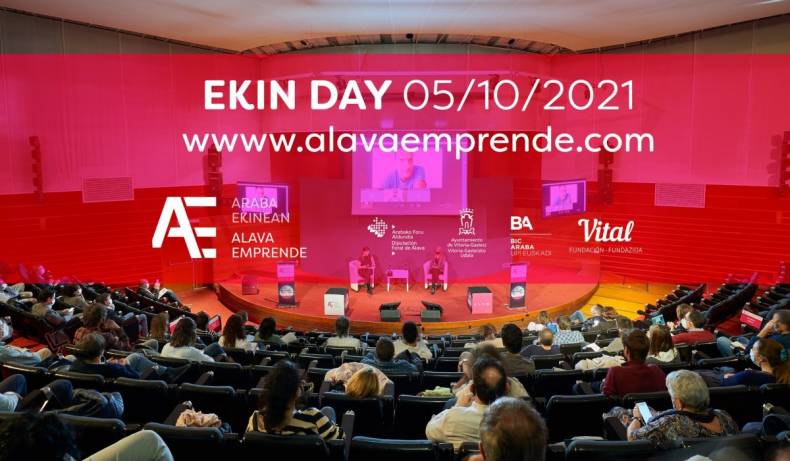 The Ekin Day of Álava Emprende will be celebrated on October 5 with entrepreneurship as a transformer of the protagonist territory
The appointment will be next October 5 and the place, the Europa Conference Center. Ekin Day will once again be the epicenter of entrepreneurship in Álava. Its main objective: to visualize the capacity of entrepreneurship to transform the territories, in this case that of Álava, in order to face the challenges of the future.
The initiative, organized by the Álava Provincial Council, the Vitoria-Gasteiz City Council, the Basque Government, through the SPRI Group and BIC Araba, and the Vital Fundazioa Foundation, will host for the first time for its final presentation a dialogue between 3 prominent entrepreneurs of the territory and the director of Orkestra, Basque Institute of Competitiveness, María José Aranguren. They are Eduardo Anitua, founder of BTI and one of the world's most recognized doctors in his field, the young businesswoman Eneritz Zubizarreta, founder of Globetesting, and the explorer and writer, Miguel Gutierrez Garitano. Moderated by the Alava journalist Delia Tobías, the four will try to show the role that entrepreneurs have as creators of the future, the motto of the 2021 edition of the contest.
The day also includes two presentations that will try to explain how to change the world through new business initiatives. They will intervene Aitor Álvarez, creator of a company that creates sneakers from 100% recycled materials; and Adelina Uriarte, from Alava, an expert in the construction of efficient and intelligent buildings.
Under the title of "Sustainability and digitization" four companies from Alava will explain their projects based on these two ideas: Yada, RE-Uso, DataValue Management and Eraman.
You can consult the complete program and register at this link.
B2B and presentation of finalist ideas
On September 29, the IV B2B Meeting will be held, which will bring together entrepreneurs from Alava with financial entities, advisers and promoters of new projects. These are individual meetings to try to connect entrepreneurs with some of the most prominent entities in the field of entrepreneurship. Registration ends on September 20 and can be done at this link.
That same day at 7:00 p.m. the event to present the finalist ideas of the 2021 edition of the "Your idea counts" Contest will be held. The 20 finalists will have 5 minutes to explain their idea to the public and the jury, and that same day the audience will choose the winner of the Special Audience Award through a live vote. The event will also feature the intervention of the entrepreneur from Alava Jon Beltrán de Heredia, creator of some of the most famous audiovisual games on the market and director of the F2P Campus, who will tell humorously about the vicissitudes to carry out a project.
In order to attend, you must register at this link.
Alava Emprende 2021 full schedule